Product Features
The solar robot could be built into 12 different shapes of robots. It is composed of 190 pcs, including moving and connecting parts like gears, plates, tires, and shafts. Kids can easily disassemble them after building each robot.
Science toys include a solar power panel and battery engine compartment. The solar power panel collects solar heat energy into an electric energy drive motor, which drives the gears to make the machine run smoothly. Offers your child practical experiences of working with green technology. When it is dark or rainy, you can use the battery engine compartment to start the drive. Make sure your child will not lose this happiness
Kids could complete the building by following the instruction manual step by step. We recommend parents and kids work together to finish the first robot building while enjoying the process of family collaboration.
This STEM robot is powered by the sun and battery-free. It can crawl, roll, and float under direct sunlight which allows children to understand the environmental concept of green technologies and renewable resources.
CIRO offers a wide range of toys and kits from STEM to crafts. We highly value customer feedback and provide a 90-day free return policy.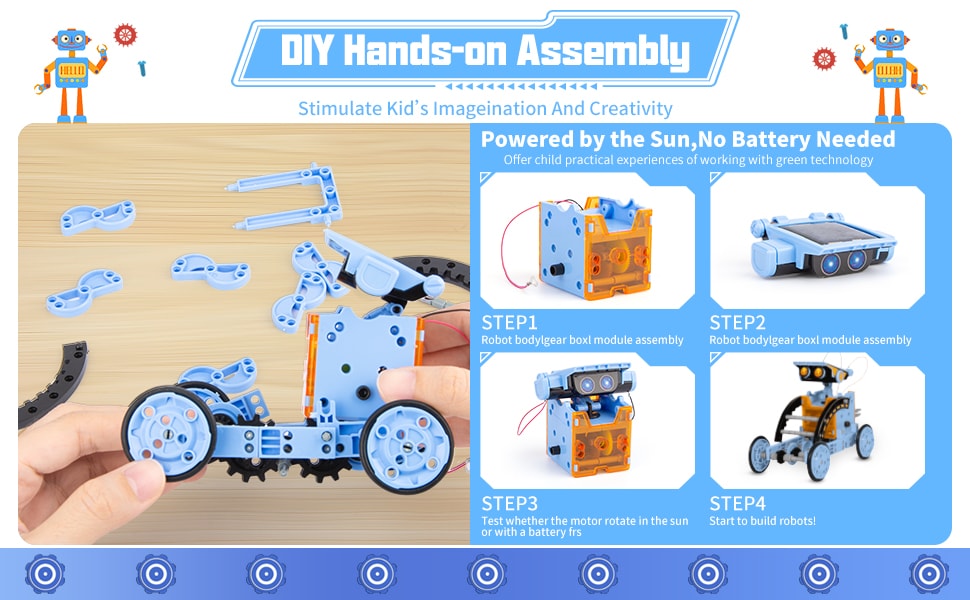 | | | |
| --- | --- | --- |
| 2-in-1 Drive Motor | Ideal Gift | DIY Project  |
| | | |
| Robot kits include a solar power panel and battery engine compartment. You can use the solar panel or use the battery engine compartment to start the drive.  | This set of educational toys is a perfect gift for children to practice their practical skills and creativity. | Each part needs to be cut by yourself, which increases the children's interest in playing, and also improves the children's imagination and creative ability. |